Florida's stunning Emerald Coast stretches over 100 miles along the Panhandle, with sugary white sands meeting the glistening, emerald-green waters of the Gulf of Mexico. Famed for its natural beauty and serene atmosphere, the coast boasts a multitude of beautiful beaches, each with its unique charm. This post will guide you through five of the best beaches you must visit on your trip to the Emerald Coast.
1. Destin Beaches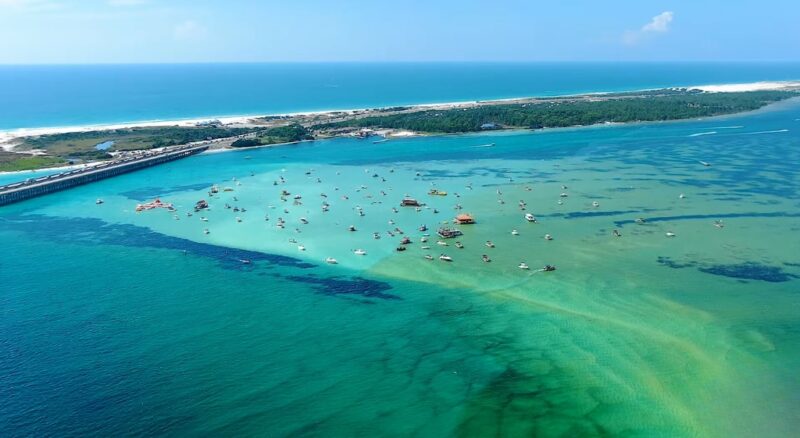 Known as "The World's Luckiest Fishing Village," Destin is famous for its deep-sea fishing, golfing opportunities, and world-class resorts. Yet, it's the city's pristine beaches that truly steal the show.
Henderson Beach State Park
A treasure among Destin's beaches, Henderson Beach State Park offers over a mile of natural scenic shoreline. The sand here is a unique composition of pure Appalachian quartz, giving it a sparkling white appearance that contrasts beautifully against the emerald waters.
Protected as a state park, the beach is always impeccably clean and well-maintained. Its well-organized nature trail winds through the coastal dune ecosystem, giving visitors a chance to encounter the native wildlife and vegetation. If you're keen on camping, there are even facilities for overnight stays.
Crystal Beach
Living up to its name, Crystal Beach presents a serene setting with translucent waters and quieter surroundings. It is more residential and less crowded, making it perfect for families or couples seeking tranquility.
Its low-rise condominiums and cute cottages set it apart from the high-rise dominated landscape of Destin. Restaurants and shops are within walking distance, adding to its charm. The beach's shallow and clear waters also make it ideal for kids or less confident swimmers.
2. Santa Rosa Beach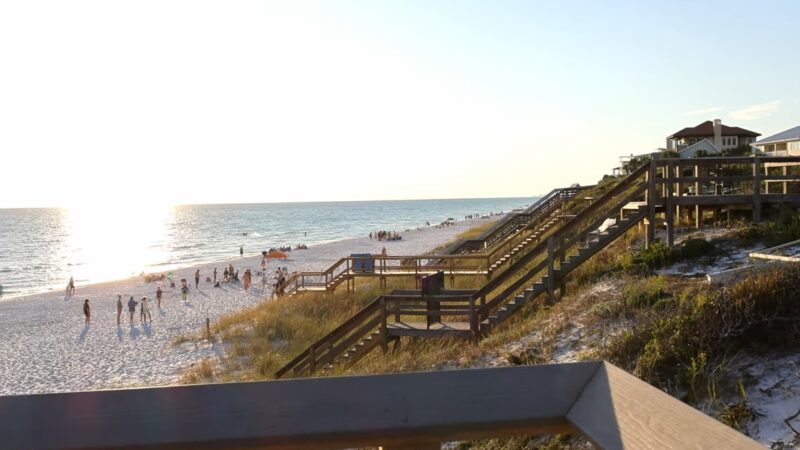 Santa Rosa Beach offers a unique blend of modern luxury and preserved natural beauty spread across its diverse neighborhoods. It has been a favorite among visitors since 1910.
Grayton Beach State Park
With its towering sand dunes, crystal-clear waters, and abundant wildlife, Grayton Beach State Park is often hailed as one of the most beautiful locations in the U.S.
Not only does the beach provide scenic beauty, but it also offers a range of activities. Visitors can kayak on Western Lake, one of South Walton's rare coastal dune lakes, hike or bike on the nature trails, or camp at well-equipped campgrounds. The iconic Red Bar, a favorite local restaurant and music venue, is also a must-visit while you're in the area.
Dune Allen Beach
Dune Allen Beach, on the west end of Santa Rosa Beach, is known for its peaceful atmosphere and three coastal dune lakes. It's a paradise for bird watchers and nature enthusiasts due to its rich wildlife and ecosystem.
With its quieter setting, Dune Allen is perfect for a serene experience. It also boasts some of the best vacation rentals along the Emerald Coast, offering stunning views of the Gulf of Mexico. The popular 30A bike trail, which stretches across the beach communities of South Walton, makes a picturesque pathway for cycling enthusiasts.
3. Okaloosa Island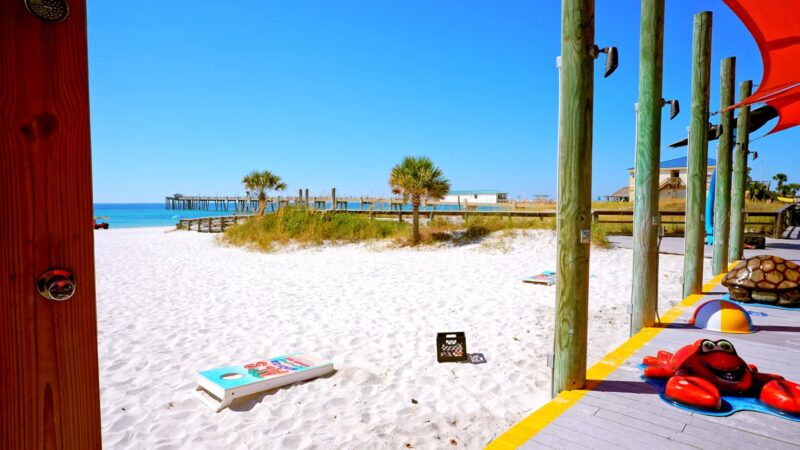 Located between Fort Walton Beach and Destin, Okaloosa Island is a natural barrier island famous for its fishing pier and stunning beaches.
John Beasley Park
John Beasley Park, located on Okaloosa Island, offers wide stretches of beautiful sandy beach and warm, clear waters. The park is well-equipped with picnic tables, showers, and restrooms, making it a convenient spot for a family day.
The park is also wheelchair-accessible and provides Mobi-Mats for those with mobility issues. The beach's low-key vibe and the chance to watch the sunset over the ocean make it a must-visit spot on Okaloosa Island.
Okaloosa Island Fishing Pier
While the entire Okaloosa Island is a beautiful beach, the area around the fishing pier is a hub of activity. This beach area is famous for the stunning views from the pier, stretching 1,262 feet into the Gulf of Mexico.
In addition to swimming and sunbathing, visitors can try their luck at catching a variety of fish from the pier, with equipment rentals available onsite. The adjacent Boardwalk offers plenty of dining and shopping options, providing a complete beach experience.
4. Panama City Beach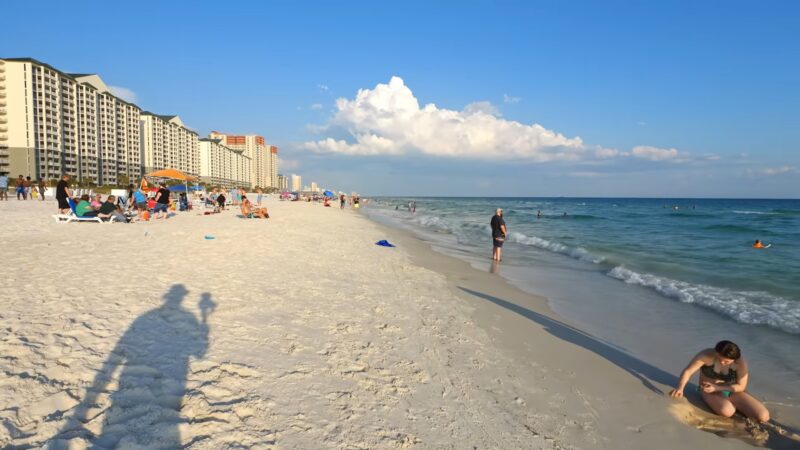 Located in the center of the Emerald Coast, Panama City Beach boasts 27 miles of stunning beaches, known for their signature sugar-white sand and crystal-clear, emerald-green waters.
St. Andrews State Park
St. Andrews State Park is a Panama City Beach gem known for its diverse landscape, ranging from sandy beaches to saltwater marshes. It's often rated as one of the best state parks in Florida and offers various recreational activities.
Visitors can explore nature trails, go bird-watching, or embark on a fishing expedition. For those looking for adventure, snorkeling in the emerald waters reveals an impressive array of marine life. There's also a shuttle service to Shell Island, an undeveloped barrier island perfect for a peaceful day trip.
Camp Helen State Park
On the westernmost edge of Panama City Beach, you'll find Camp Helen State Park. This unique beach is bordered by the Gulf of Mexico and Lake Powell, one of the largest coastal dune lakes in Florida.
The park's historical significance, combined with its natural beauty, make it a unique spot. Visitors can go for a swim, hike on the nature trails, or explore the historic site previously used for company outings and retreats.
5. Pensacola Beach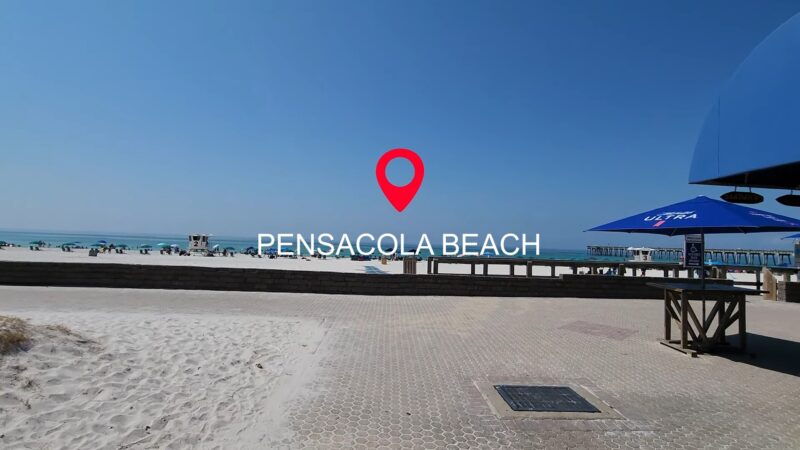 Pensacola Beach, located on Santa Rosa Island, is famed for its laid-back atmosphere and stunning natural beauty. Its combination of family-friendly amenities and natural attractions makes it an appealing destination for all.
Casino Beach
Casino Beach, located in the heart of Pensacola Beach, is a hub of activity. It gets its name from a casino that stood on this spot in the 1930s, not in reference to gambling but as an Italian term for a gathering place.
It is a popular spot due to its host of amenities like cafes, restaurants, restrooms, and showers. The Pensacola Beach Pier nearby offers a spectacular view and the surrounding area.
Quietwater Beach
Just across from the bustling Casino Beach is Quietwater Beach. It is located on the Santa Rosa Sound side of the island, offering calmer waters, which makes it a perfect spot for families with young children.
It is a popular spot for paddleboarding and kayaking. There's also a boardwalk with shops, eateries, and live entertainment. It's a great spot to wind down after a day of beach activities and watch the beautiful sunset over the sound.
Final Words
These are just a handful of the stunning beaches that the Emerald Coast has to offer. Each one has its unique charm, inviting you to slow down, soak up the sun, and savor the breathtaking views. Whether you're looking for adventure, relaxation, or a bit of both, you're sure to find a beach that's perfect for your next vacation.