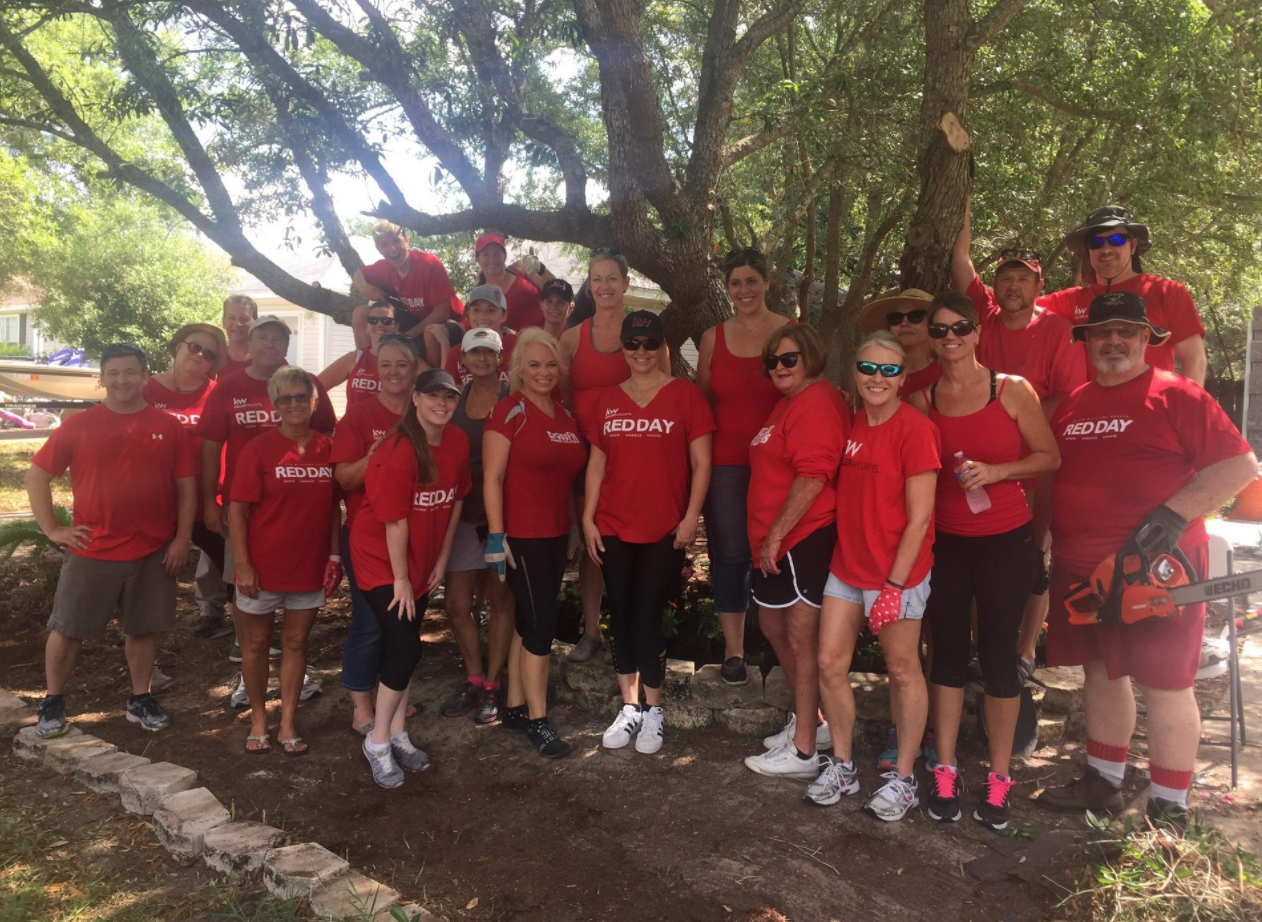 By Press Gazette contributor
NAVARRE — KW Red Day, inaugurated in 2009, is Keller Williams Realty's annual, company-wide day of community service. RED stands for renew, energize and donate. KW associates around the world are asked to "give where they live" and dedicate a day to renewing and energizing the communities they serve.
For this year's Red Day, Keller Williams Emerald Coast's Navarre Dream Team put a call out to the local community to ask them to nominate area individuals and/or families that could use some assistance with yard work to help with their home's "curb appeal."
KWEC's Navarre Dream Team came together bright and early on Thursday, May 11 to work on the yards of two homes. The agents brought tree trimmers, rakes, lawn mowers, blowers and shovels, working all day to plant flowers, mulch, edge, and weed—completely transforming the facades of both homes.
The owner of one of the homes, Patricia Robare, is a mother of six children and said she sincerely appreciated all the hard work.
"I feel so grateful that the Keller Williams Navarre team was willing to help plant flowers, rake and trim the bushes in my yard. They did a wonderful job, and as a busy working mother, coming home to a cheerful, manicured yard that my kids and I can enjoy is just huge," said Robare.
In addition to yard work, the Red Day teams put a fresh, white coat of paint on Robare's garage door, and painted the wood railings leading up to the front door at the second home — making for a bright, inviting entry way to both homes.
At the end of the day, all the sweat and toil in the sun was worth it for the 65-plus members of Keller Williams Navarre Dream Team.
"After the homeowners' responses, I thought to myself, wouldn't it be wonderful if every day could be Red Day? Then I thought, I have got to get started planning for next year! Thank you to Keller Williams for combining two of my passions, real estate and giving back," said Patti Mankoff, the Navarre Dream Team member who coordinated the Red Day efforts.